Hi friends! Overall in the month of August, I managed to read three books, which was quite good considering I read the mammoth that is Game of Thrones this month, although I do seem to have fallen into a bit of a reading slump recently, not fun! Onto the books!
A Game of Thrones by George R.R Martin - 5/5
I watched the first season prior to reading this and managed to love this book despite knowing everything that happens - if that's not a good book then I don't know what is! In case you don't know, Game of Thrones is the first fantasy book in the Song of Ice and Fire series and follows a variety of characters across the fictional world of Westeros. The world created by Martin is extensive and well developed, political with a hint of supernatural evil and it was nice to read about a range of characters of different ages, status and backgrounds.There's so much treachery and political turmoil and I have a feeling everything is going to get some much more intense in the next book!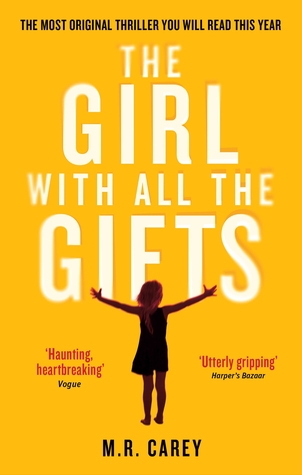 The Girl with All the Gifts by M.R Carey - 5/5
This has quickly become one of my favourite books, it's everything you could want in a zombie novel. The novel is post apocalyptic and follows a group of characters surviving in a zombie wasteland - with a twist. It's
thrilling, enigmatic, and action packed but at the same time, explores the complexities of humanity, compassion, and mortality through a cast of well-developed characters. I really enjoyed how the characters perspectives and motives are explored through the third person narration and gives an insight into their backgrounds and the impact this has on their decisions throughout the novel. It's a refreshing and unique read and successful combines both zombie action with a poignant and thought provoking story.
The Restaurant at the End of the Universe by Douglas Adams - 4/5
This is the second book in the Hitchhikers Guide to the Galaxy series. After reading the first book in the series I read this one! It's quite similar to the first book in the series, in that the plot is very loose and random, as are the characters and the events which take place. I found the pacing of this book quite slow towards the beginning but it picked up at the second half of the book. Also I found that this book focused more on Beeblebrox and Ford and characters such as Trillian were ignored quite a bit, she wasn't mentioned much and was just in the background, occasionally talking with Arthur. I thought her character could have been developed or just included more. Overally, I enjoyed reading this and I'm quite intrigued to find out what goes on next!
If you guys have read these books, what are your thoughts? What books did you guys read this month!?